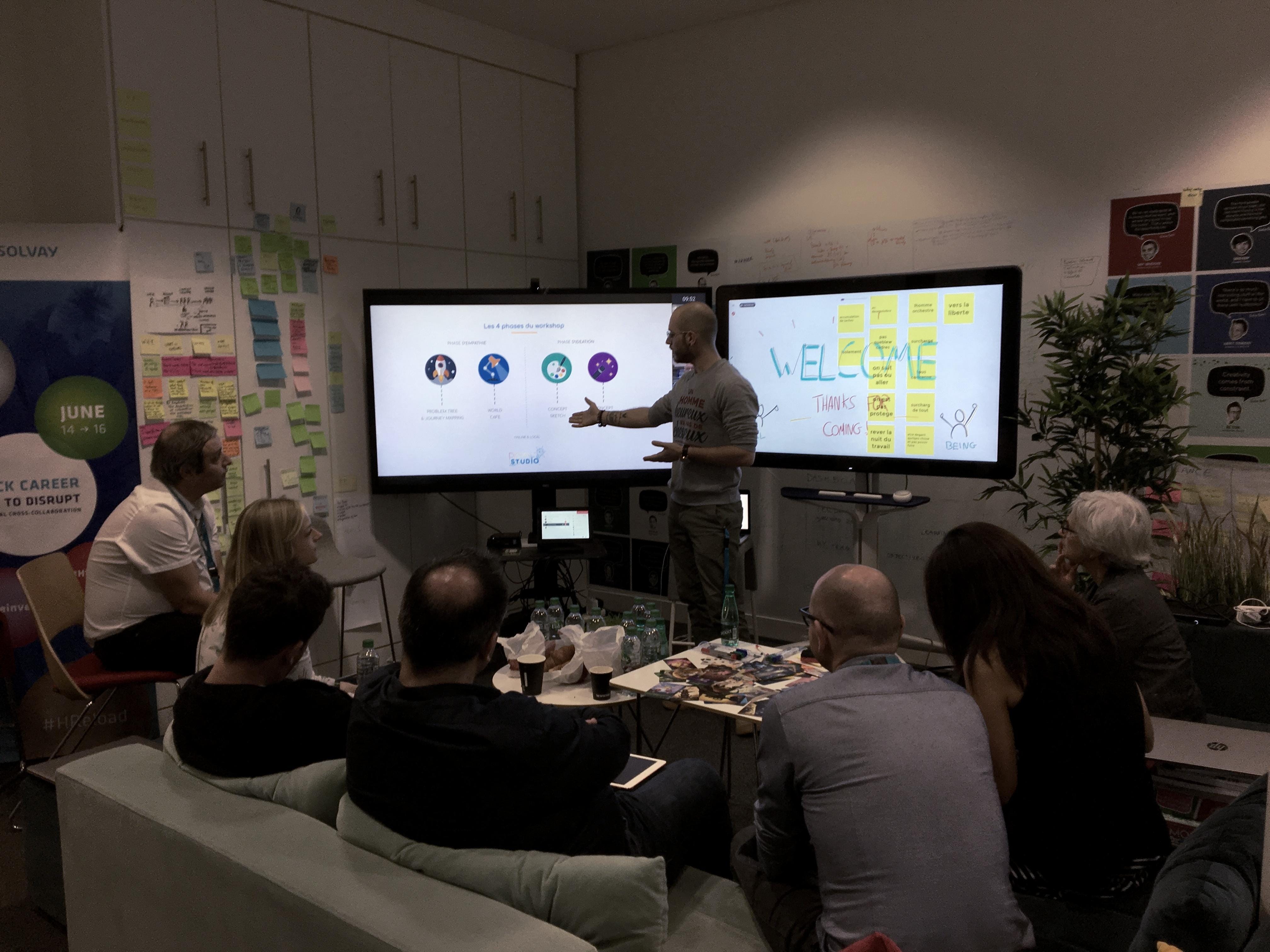 HUMAN EXPERIENCE
RESEARCH SPRINT
RUN YOUR LEAN HUMAN CO-RESEARCH METHODOLOGY TO FIND OPPORTUNITIES TO IMPROVE PEOPLE EXPERIENCES, DEVELOP YOUR STRATEGY AND CREATE INNOVATION
Content from Youtube can't be displayed due to your current cookie settings. To show this content, please click "Consent & Show" to confirm that necessary data will be transferred to Youtube to enable this service. Further information can be found in our Privacy Policy. Changed your mind? You can revoke your consent at any time via your cookie settings.
Consent & Show
WHAT IS THE PROBLEM WITH THE DISCOVERY RESEARCH AND STRATEGY CREATION TODAY ?
SOLO "USER" & NOT TRANSPARENT RESEARCH WITH DISCONNECTION BETWEEN BUSINESS & RESEARCH OUTCOMES
WASTE OF TIME AND MONTHS TO HAVE FIRST INSIGHTS
NO COLLABORATIVE APPROACH WITH INVOLVED STAKEHOLDERS
STRESSFUL WORK ENVIRONMENT DUE TO WORK OVERLOAD AND HIERARCHYCAL PRESSION
HOW MIGHT HX RESEARCH SPRINT HELPS STRATEGY TEAMS TO SOLVE THESE PROBLEMS ?
CO-RESEARCH WITH KEY PEOPLE INVOLVED IN THE MISSION TO SET-UP AND FOLLOW SAME OUTCOMES
FULL IMMERSION INTO THE LIFE OF A RESEARCHER
2 WEEKS / SPRINT TO RESEARCH - DEFINE - ANALYSE & IDEATE ON YOUR STRATEGY
DEFINE OPPORTUNITIES BASED ON REAL HUMAN INSIGHTS AND DATA BASED ON FACTS
CO-CREATION AND CONTINUOUS IMPROVE THE APPROACH DRIVEN BY DOING TOGETHER
STOP THINK TO DO...DOING AND DO IT WELL AS A TEAM
HAVE FUN WITH YOUR TEAM: DANCE, PLAY GAME HAVE SOME TIME TO KNOW EACH OTHER LIFE
BE HUMAN AND FRIENDLY, HUMBLE IS THE KEY WORD
WHAT IS THE HX RESEARCH SPRINT FRAMEWORK ?
START WITH A PSYCHOLOGICAL APPROACH WITH INTERVIEWS BASED ON FINDING HABITS, BEHAVIORS, FEARS AND PAIN POINTS FOR A SPECIFIC PROBLEM
CO-RESEARCH WITH A DEDICATED TEAM TO WORK IN AGILE AND LEAN UX METHODOLOGY EMBRACE CO-RESEARCH WITH YOUR TEAM BREAK RESEARCH & DESIGN SILOS
FINISH WITH AN IDEATION DESIGN PHASE TO STRUCTURE YOUR STRATEGY AND WORK ON PROCESSES, SERVICES, PRODUCTS AND MUCH MORE...
HX RESEARCH SPRINT @ UX STRAT AMSTERDAM 2021